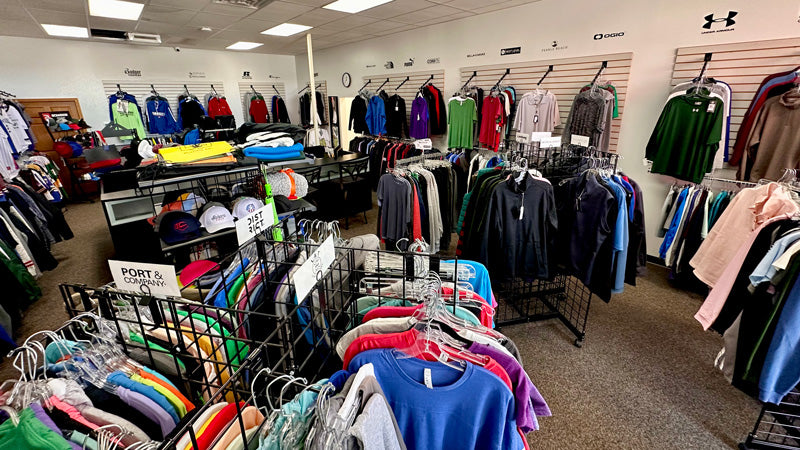 Discover Quality and Variety!
At Advanced Sportswear, we pride ourselves on offering more than just exceptional printing and embroidery services. Step into our expansive sample room, a haven of creativity and inspiration that's sure to elevate your apparel customization experience. With over 60 renowned brands, including Nike, The North Face, UNRL, Under Armour, Adidas, Carhartt, Champion, and many more, our sample room is a treasure trove of possibilities.
Explore Endless Possibilities
Our sample room is a place where imagination takes center stage. Whether you're seeking the perfect apparel for your sports team, company uniforms, or promotional giveaways, you'll find a vast array of options to choose from. Our curated selection spans a diverse range of styles, materials, and brands, allowing you to envision your designs on a variety of high-quality garments.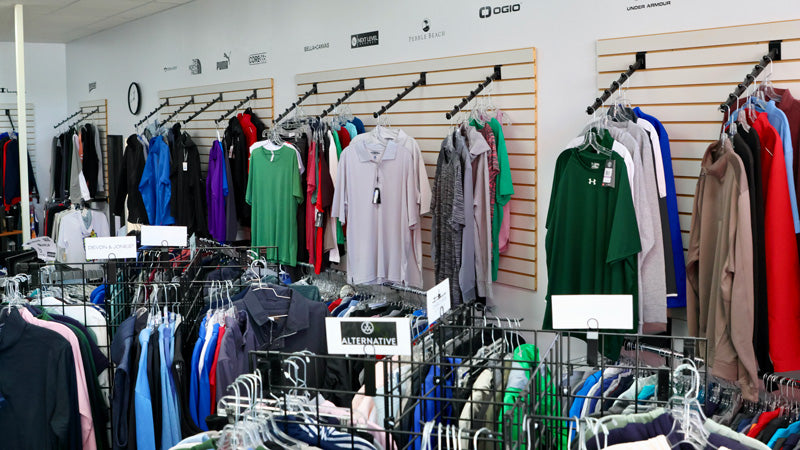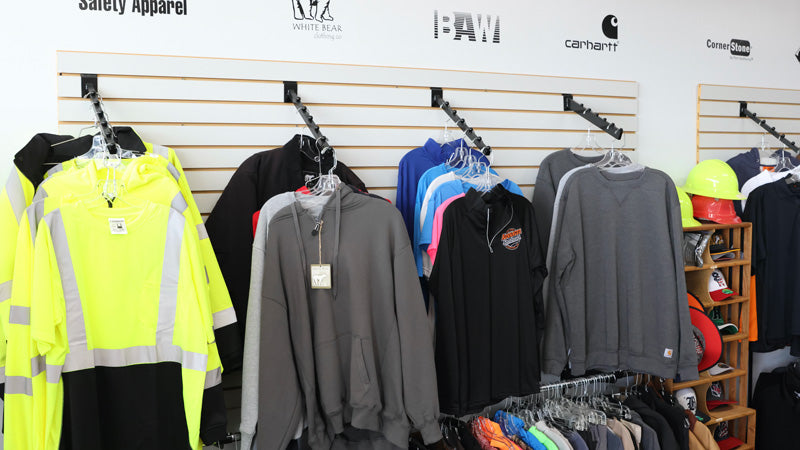 Immerse Yourself in Top Brands
We've meticulously collected an extensive lineup of over 60 esteemed brands, each renowned for their commitment to quality and innovation. From the athletic prowess of Nike and Under Armour to the rugged durability of Carhartt, you'll have the chance to interact with an assortment of apparel that caters to every need and preference.
Visualize Your Designs
Our sample room isn't just about clothing; it's about possibilities. Step beyond imagination and into reality by visualizing your designs on our top-tier garments. Touch, feel, and examine the materials, textures, and fits that matter most to you. Our sample room allows you to gain a firsthand appreciation of how your logo, artwork, or message will come to life on different fabrics and styles.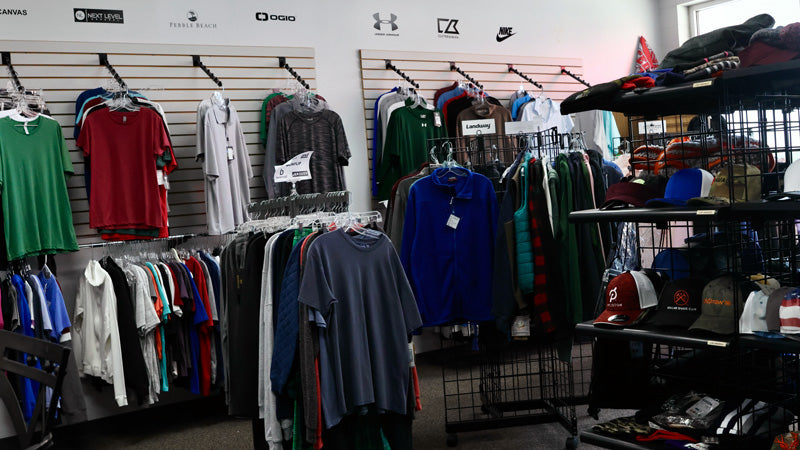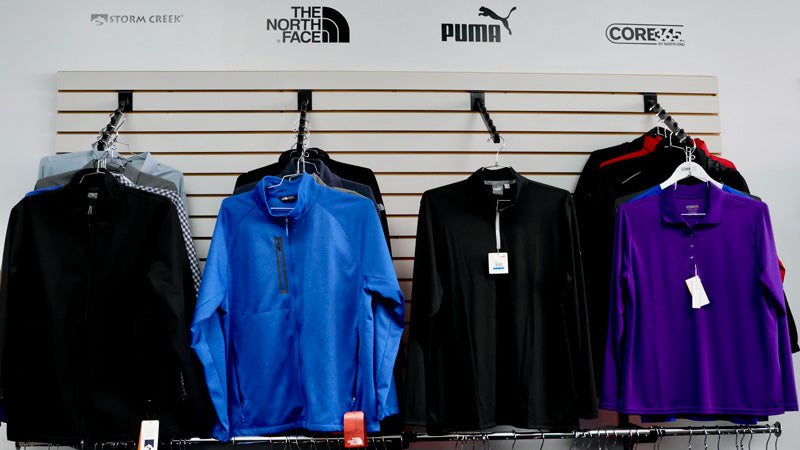 Make Informed Decisions
We understand that choosing the right garments for your project is crucial. Our sample room provides you with the opportunity to make informed decisions. Feel the softness of fabrics, evaluate stitching quality, and assess the overall comfort and fit of the items. This hands-on experience empowers you to select the perfect apparel that aligns with your vision.
Personalized Guidance
Our knowledgeable team is ready to assist you in navigating our sample room. Whether you're seeking recommendations based on your project's requirements or need advice on design compatibility, we're here to help. We're dedicated to ensuring that you're equipped with the information you need to create exceptional custom apparel.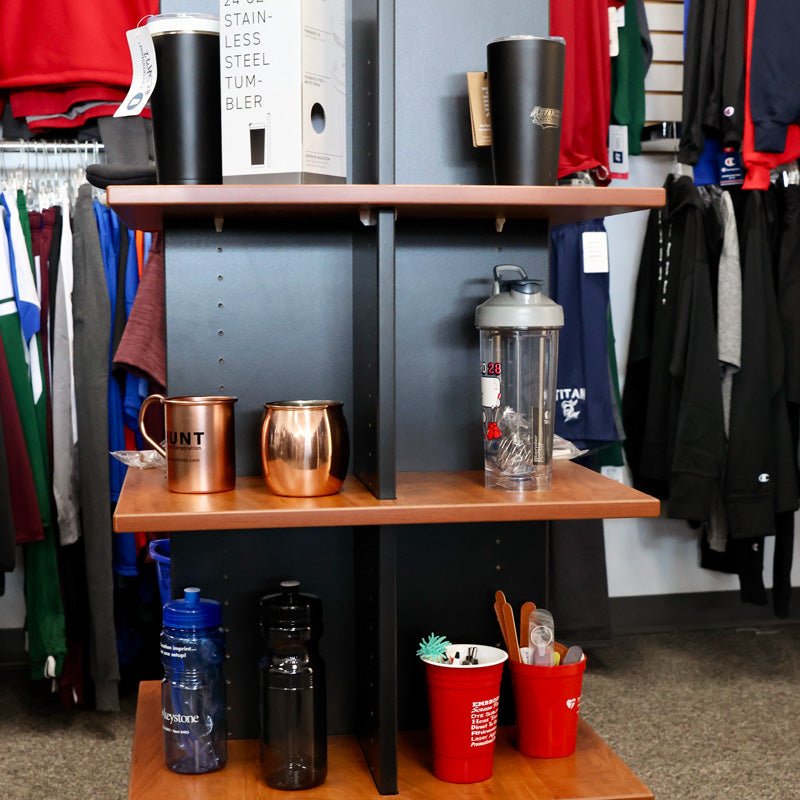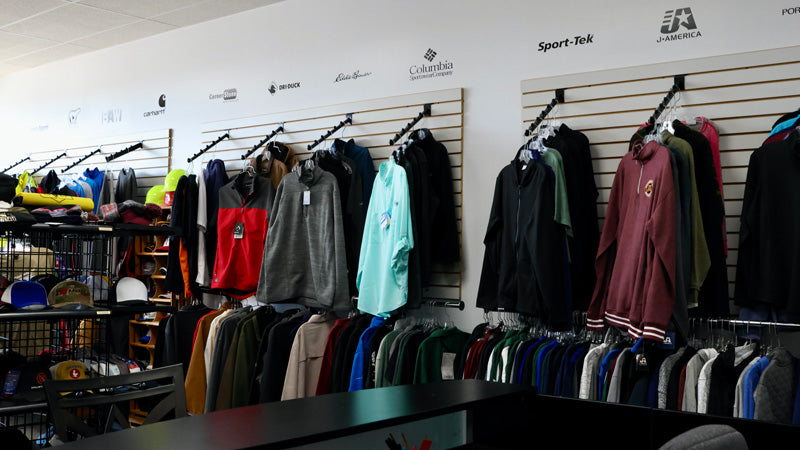 Creativity at Its Best
Creativity knows no bounds in our sample room. Witness the fusion of your imagination and our top-tier brands, and discover the potential to transform ordinary garments into unique and personalized pieces that leave a lasting impression.
Visit Our Sample Room
Visit our sample room today to experience the convergence of quality, variety, and innovation. Let your creativity soar as you explore the endless possibilities that await within our walls. At Advanced Sportswear, your vision becomes reality, and every stitch tells a story.
Contact Us
★★★★★
Advanced Sportswear is a great business! I'm really glad I found these guys. They have done a great job embroidering and screen printing for me and have been always fairly priced. They get things done in a timely fashion and are extremely helpful in sizing product and helping us find what we really want. My business orders exclusively from them. We order everything including screen printed T shirts, light jackets, work jackets, baseball caps and winter hats. I would recommend them 1000 times over."
– Koolhand N.
★★★★★
"We absolutely LOVE our friends at Advanced! Our family has been doing business with Advanced for over 10 years - and we have never had a single return or quality concern. Advanced is not only our family's local supplier of Cottage Grove Hockey, Baseball, Football & Softball gear - they are also our community partners! OUTSTANDING service, EXCELLENT product, and COMMITTED community philanthropy."
– Annie M.