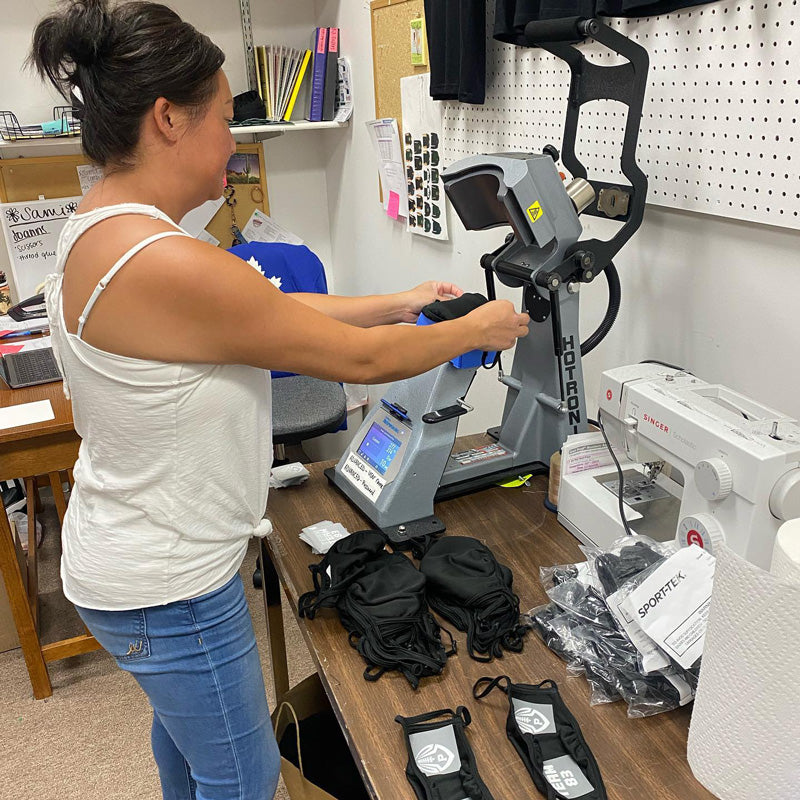 Heat Press
Advanced Sportswear is a leading provider of heat transfer services in Minnesota. We offer a wide range of heat transfer printing services, including direct to garment (DTG) printing, heat transfer vinyl (HTV) printing, and sublimation printing. We can print on a variety of garments, including tshirts, hats & hoodies.
Get Started
Heat press printing is a process of transferring a design or image to a substrate, such as a garment, using heat and pressure. The design is printed onto a transfer sheet, which is then placed on the substrate and heated with a heat press. The heat and pressure melt the ink on the transfer sheet, which then bonds to the substrate.
Heat press printing is a versatile printing technique that can be used on a variety of substrates, including garments, fabrics, and other materials. It is also a relatively cost-effective printing method, making it a popular choice for businesses and organizations that need to print large quantities of promotional items.
Our 3 Different Heat Press Styles
Most Popular Products We Heat Press
T-Shirts
Comfortable and versatile garments that can be worn by people of all ages.
Hats
Stylish and functional accessories that can be worn by people of all ages.
Uniforms
Professional and eye-catching ways to show off your team's branding.
Sweatshirts
Comfy and stylish ways to show off your favorite designs.
Aprons
Practical and protective ways to show off your favorite designs.
Tote Bags
Stylish and practical ways to carry your belongings.
Blankets
Practical and durable ways to show off your favorite designs.
Phone Cases
Stylish and protective ways to show off your favorite designs.
Water Bottles
Durable and practical ways to show off your favorite designs and stay hydrated.
Real Customer Heat Press Projects
★★★★★
"Everyone was extremely helpful! Will was very helpful and created three Vikings hats for my sons and husband."
– Ashley F.
★★★★★
"I'm continually impressed with the communication of everyone at Advanced as well as their creativity and talent."
– Rachel R.
FAQ's About Our Heat Press Services
This process uses high heat to apply logos to garments. While there are some limitations to what fabrics we can apply to using a heat press, common fabrics like cotton and polyester work great.
Digital proofs are done for the heat press department. Due to the extreme customizations we do in this department (names and numbers) we don't provide samples before your specific order. However, our sales team has generic samples available.
Vector art is requested, but not necessary.
Please speak to one of our sales reps for more information on fundraising.
Yes, we have a team of digitizers to help with your design.
All customized items go through a strict quality-control process before customers receive their order.
While we are able to help with quick turnarounds, 2-3 weeks is our typical turnaround time for completion of custom orders. (This is subject to change depending on the time of year and if we are in our holiday season).
With 35+ years of business, and many employees with 10+ years of experience - we have set aside time in this department in our busy seasons to work on getting quick turnarounds for your order customizations!
Please reach out to us as we have slow seasons and gaps in scheduling.
This department doesn't have minimums! We work with orders that are 1-1,000+ pieces.
Absolutely! Our team of sales professionals can help you choose the best way to reach your custom order dreams.
Ready to start your heat press project?